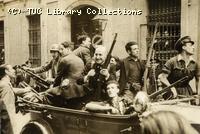 Spanish Civil War

In 1936 Franco and his fascist collaborators, aided by arms and ammunition from Nazi Germany and fascist Italy, staged an insurrection against the elected Popular Front Government of the Spanish Republic unleashing a civil war which, by 1939, resulted in the military defeat of the elected government. The cause of Republican Spain attracted widespread international support. By 1936, the real horror of fascism in Italy and Germany was evident for all to see and the popular and broad based opposition to it in Spain provided an opportunity for democrats of all political shades to show practical solidarity.

The National Joint Committee for Spanish Relief chaired by a Conservative MP, the Duchess of Atholl, was supplemented by local Aid Spain committees that mushroomed in almost every town. However the uniqueness of the solidarity movement lay in the fact that it inspired men and women to actually go to Spain in the service of the Spanish Republic. From many countries, Britain included, volunteers were recruited to the International Brigade to fight alongside their Spanish comrades-in-arms, risking death and injury from the superior military strength of the fascists. Two thousand British volunteers went, attached first to different units, but later forming the British Battalion under the command of Bill Alexander. Five hundred and twenty six of them were killed and many more were injured. Alexander's estimate of the total number of international volunteers is 42.000 of whom 20.000 were killed, reported missing or were badly injured. In January 1937, the British Government made it illegal to volunteer to fight in Spain, but this did not stop the process, it just made it more difficult.

TUC policy was one of non-intervention. It did not support the International Brigades, neither did it call upon the Government to supply arms to the Spanish Republic. This policy was in sharp contrast to agitation against non-intervention in some of the affiliated unions, notably the engineers.

The National Council of Labour (NCL), representing the TUC and the Labour Party, organised official fundraising and relief work through the International Solidarity Fund (ISF) set up by the Labour and Socialist International and the International Federation of Trade Unions. ISF relief was usually restricted to food, tobacco, medicine and lorries to distribute the goods. The NCL also worked with the National Joint Committee for Spanish Relief to provide help to Basque refugee children.

Professor Mary Davis, Centre for Trade Union Studies, London Metropolitan University.