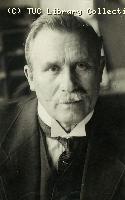 Socialism

In 1884, the Third Reform Act gave the vote to the majority of adult men. This boosted the demand for working class political organisation, although there was little agreement on the form this should take. Two organisations, the Social Democratic Federation (SDF) founded in 1883, and the Independent Labour Party (ILP), 1893 with different ideologies had an impact on industrial struggles in this period. SDF members like Tom Mann and John Burns were active among unskilled workers in London.

The ILP was founded in Bradford and had a strong membership among textile workers in the north of England - the heart of the industrial struggle in the 1890s. For them Liberalism was no longer the answer as it was too closely identified with the employers. Class conscious workers were increasingly receptive to the kind of independent labour politics which gave expression to their concerns at work and in the community. Of the 305 ILP branches formed within the first year of its existence, 105 of them were in Yorkshire. The ILP was inspired by ethical (sometimes Christian) socialism - a non- Marxist moral critique of capitalism, which found its best expression in the work of Robert Blatchford. Blatchford's paper, 'The Clarion' started in 1891 and achieved a circulation of upwards of 30,000 and a readership of thousands more. His book, 'Merrie England' (1893), was probably the most influential book since Tom Paine's 'Rights of Man'. Blatchford announced that the newspaper would follow a "policy of humanity; a policy not of party, sect or creed; but of justice, of reason and mercy."

The Clarion newspaper also became involved in a wide range of different activities including missionary vans, cycling clubs, choirs, handicraft guilds and holiday camps. The newspaper also sponsored Cinderella Clubs to entertain children from the slums.

The popularity of socialist literature satisfied a thirst for knowledge amongst working people. This was also reflected in the establishment of adult education provision for workers. In 1899, Ruskin College was formed to extend the benefits of an Oxford education to the working class. This was followed in 1903 by a more wide scale effort in the form of the Workers' Educational Association. In the heady ferment of the militant trade unionism in the early years of the 20th century, the content of the education provided was hotly contested. In 1906, Ruskin students, supported by the principal Dennis Hird, rebelled against the economics syllabus, demanding that Marxist political economy replace 'bourgeois' economics. In 1909 a split occurred with the rebels setting up the Central Labour College -backed by the South Wales Miners' Federation and later by the National Union of Railwaymen. Students of the College formed themselves into the Plebs' League to popularise Marxism throughout the country by means of Marxist study circles.

Professor Mary Davis, Centre for Trade Union Studies, London Metropolitan University.